Evaldas Bakonis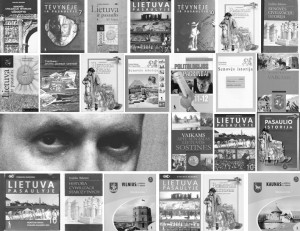 AREAS OF SPECIALISATION
TEACHING HISTORY:
all areas of teaching, learning, course development, and assessment.
TEACHING MATERIALS FOR SCHOOL:
preparation, evaluation, and distribution of learning resources, with particular reference to textbooks.
EMPLOYMENT HISTORY
1986–2001 Lecturer; Dept. of World History; Vilnius Pedagogical University.
1993–2010 Teacher of History; Simonas Daukantas gymnasium, Vilnius.
1997–2000 A member of a group of experts for development Matura examinations in History, National Examination Centre; Lithuania.
1998–2000 Coordinator-researcher in the Textbook Research and Information Centre for the Baltic Countries.
2001–2005 Head of the Textbook Centre in the Education Development Centre, Vilnius.
2005–2009 Project manager, Publishing House "Sviesa"; Kaunas.
SELECTED INTERNATIONAL EXPERIENCE
1997–1998 consultancy for the Open Society Institute – Azerbaijan (programme for textbooks development);
1998–1999 an adviser for the joint Latvian-Estonian history textbook project "New ways to the past", EUROCLIO (European Standing Conference of History Teachers' Associations);
1999–2004 consultancy for the Open Society Institute – Tajikistan (programme for textbooks development);
2000–2001 Editor of the publication "Jewish Life in Lithuania" in co-operation with Anne Frank House (Amsterdam), Vilnius Gaon Jewish State Museum, and Lithuanian Institute of History;
2003–2004 consultancy; project "Education against corruption", Open Society Fund-Lithuania together with the Denmark Embassy in Lithuania;
2009–2013  consultancy for the Open Society Institute – Tajikistan (programme for new exam system).
PUBLICATIONS
* more than 10 textbooks, student's exercise books, teachers' guides of teaching History
* more than 50 articles on history, history teaching, praparation and evaluation of textbooks.
* * *
With experience both as an educator and as a specialist in a publishing industry, Evaldas Bakonis is able to advise on issues including:
* history curriculum development and reform;
* developing, setting and monitoring of educational resources;
* test and examination design in history;
* developing of educational programmes and training courses.
Direct e-mail: evaldas@bakonis.lt